Because it's cute - have a baby elephant.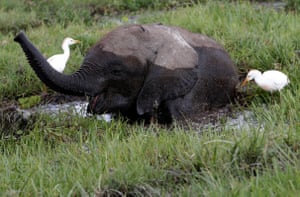 He's celebrating the fact that China is shutting down it's ivory trade - http://www.itv.com/news/2017-03-31/chi
na-shuts-down-a-third-of-ivory-factories-a
nd-shops-ahead-of-formal-ban/
There's a risk that the trade may move underground, but this is still good news. Reducing demand is likely to have more long-term effect than catching poachers (though both are necessary)
This entry was originally posted on
Dreamwidth
where it has
comments.
Been a couple of weeks since I last posted, so here goes.